Chapter 3: Safety
You Are Traffic.
"A day or two since, a gentleman in Chicago, who has been practicing on a velocipede, for some time on the sidewalks, came out upon Indiana-avenue, and throwing down the gauntlet of defiance, dared a street car driver to race with him to Thirty-first street, the terminus of the track. The challenge was accepted by the car driver, although the latter had several lady passengers on board. The race began auspiciously, the horses being driven at a furious pace. The velocipede soon gained upon its competitor, and bade fair to distance it, when an unlucky crack in the sidewalk received the forewheel, leaving the other, in obedience to the law of its momentum, to turn a summersault, throwing the rider into the gutter. The car won the race on a 'foul.'"
-

The New York Times

, January 15, 186910
You are traffic, and if you plan on riding a bicycle around town, it's probably a good idea to have a reasonable knowledge of how to act. Unfortunately, there is no widespread cyclists' education to train riders, and there are many misconceptions about how to ride on the streets. Following some general guidelines, it's relatively easy to get around town in a safe, quick, and efficient manner. Now, before I begin, lights and a helmet: use them. Use lights at night, use them in the early morning hours, use them whenever it's dark. Get extra batteries for your lights; keep some in your bag. Reflectors suck; get lights. Use lights. Buy a helmet you will wear. It's worth spending a little extra money on one so that you won't hate it. I shouldn't even have to explain this.
Maps
Improving the way we look at our cities is a great way to prevent conflict. Think of the map of your city. If you are like me, you are thinking of roads, primarily high-speed, high-traffic roads. However, if you want a safe, pleasant cycling experience, it helps to create a gestalt shift in the way you see your city map. What do I mean? Cities with large transit systems have clear, alternative maps. When taking the subway uptown in New York City, one doesn't have to remember which subway line runs along Broadway (it's the N/Q/R trains below Times Square, and 1/2/3 above). In fact, in the subway, one doesn't think of routes in terms of roads at all. On subway maps, the roads almost disappear beneath the train lines. Now imagine you need figure out which way to take subway, but you only have a road map. You look the road map, then superimpose the subway map onto it in your mind. You "see" both maps, and you can "flip" them back an forth in your mind. This is a gestalt shift. This is useful very when looking at your city map in terms of cycling.
An automobile-centric map is typically the default when people visualize their city. Everyone has already learned it. What is intuitive about an automobile-centric map is that road size on the map typically correlates to actual road size. "You can't miss it" is an expression that is common for driving directions because major routes are physically large. Unfortunately, bike maps are quite the opposite. Safe routes are on small, generally unnoticed roads, hidden away in neighborhoods or parks. The reason new cyclists don't know of these routes is precisely because they aren't roads that are often driven on. For example, when I ride across Austin, I obviously don't take Mopac or I-35 (highways); I don't even take Lamar or Congress (major avenues). I ride on small, neighborhood roads, away from traffic all the way across town. However, I am only able to do this because I know the bike routes, cycle paths, and other facilities. I spent some time learning them. Ask someone in Austin if he knows where South Lamar is and there's a good chance he can tell you in detail, but ask him where Kenny Street is and he will probably have no idea. These roads are essentially parallel, but the first is a major thoroughfare (that can be frightening even with its bike lane), while the other is a bike-friendly route on a small, neighborhood road.
Now, if you are a new (or potential) cyclist, you probably think of the roads you'd typically drive on when contemplating a route, and could be terrified at the prospect of having to interact with the associated traffic. Of course, you probably don't need to ride on those busy roads at all. A bike map can calm those fears by showing the appropriate neighborhood routes with low traffic and slow speeds, though most of these maps could be improved. The best part is that these alternate routes probably won't even be out of the way; they might even save you some time. So drop by a cycling shop and see if there is a bike map of your city, and keep it in your bag or by your bike. It'll be useful if you need find an new route across town.
Ride Like Drivers Can't See You...
Unfortunately, cyclists must always ride defensively. Even though drivers can see you, often, perhaps through no fault of their own, they won't. Bicycle advocates have pointed out that there is safety in numbers when it comes to cycling11. This is not to say that riding in groups is safer than riding alone, but that drivers tend to see only what they expect to see. Thus, if there is a high prevalence of cycling in a community, the drivers in that community will literally be able to see and interact with a cyclist sooner and more safely. The other side of the coin, unfortunately, is that in less-cycled communities, automobile drivers may not see you, and you need to be wary of them; they can be quite dangerous with their blinders on.
Watch out for doors. The verb "doored" refers to when someone opens the door of a parked car immediately in front of a cyclist, causing the cyclist to swerve into traffic or crash into the door. This is probably the most serious danger that most new cyclists and, unfortunately, most people, don't know about. Cyclists are typically directed to the right side of the road where cars are parked; unfortunately, this is where people most frequently open doors, even if a bike lane is provided. Because of this, bike lanes on one-way streets are now being placed on the left side, as the number of passengers exiting cars here is orders of magnitude smaller. My advice here would be not to ride very quickly when in between traffic and parked cars. Check cars' rearview mirrors to see if anyone is in the driver's seat. Be aware of cars that have just parallel-parked in front of you; their drivers will probably be exiting. Be wary of cars that are idling or have their brake lights on. You never know when the driver may exit, but you do know the car is occupied. Just knowing a door may open is half the battle; use the whole bike lane, it's wide for a reason. Finally, take the lane when necessary. That is, if you feel unsafe, use the full lane. This is legal in almost all jurisdictions.
There are also more subtle aspects of interacting with cars. For example, make eye contact. Yes, get used to looking through the windshield and looking the driver in the eye. There is a person in that car; study him. Is he looking at you? Is he texting someone? Is he distracted? If he is looking at you, he probably sees you; if he isn't, he definitely doesn't, so proceed with caution. This simple trick is the best piece of defensive cycling I know. Always beware of cell phones, because distracted drivers do strange things. Look at them as you interact with them. It is not just a car, it is a person in a car.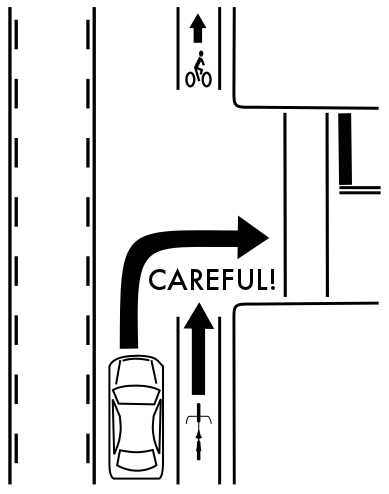 There are also times at intersections when cars' actions should not be trusted. The two main scenarios one should look out for, are the 'right hook' and the 'left cross'. The right hook is the when a driver suddenly turns right into a cyclist at an intersection. There is really no way to anticipate this, but it's best to be aware of automobiles near you at an intersection. Try to avoid riding through the intersection when in the blind spot of a car. It's also a good idea to keep an eye on the front tire of cars that you think may be about to turn right it front of you. It's actually much easier than it seems.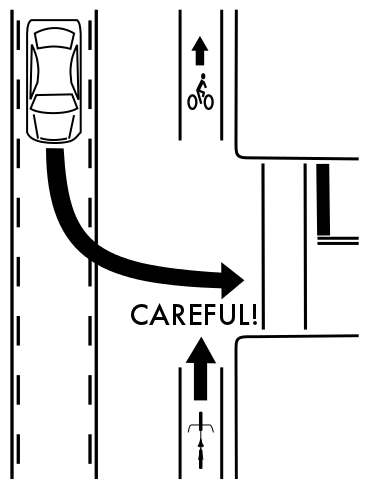 The left cross can happen when a car opposite someone in an intersection turns left inattentively. They may be trying to sneak through a gap on a busy street, or they may be completely oblivious to cyclists altogether. Either way, be ready to avoid a collision of this type. Slow down before the intersection and try to see if this driver is anticipating you approaching. Have you made eye contact? Are you riding through just as a gap in traffic is created? Keep these things in mind and proceed with caution. It will become second nature once you start checking for it, trust me.
Always take the full lane when needed. Most state laws instruct the cyclist to stay as far to the right as is "practicable." Now, what "practicable" means is obviously intentionally vague, but I can tell you, it is rather "impracticable" to stay dangerously close to the curb, where damage to the pavement could leave you stuck between the curb and a passing car. Generally, I would suggest riding in the right tire-mark, but also taking the full lane when appropriate. This allows plenty of room for automobiles to pass when it is safe, but it also leaves the cyclist some enough space if a distracted automobile driver were to (accidentally) pass too close, while (accidentally) discharging the horn and (accidentally) shouting something inaudible while passing (these accidents do happen occasionally). While this might create a dangerous situation if the cyclist where up against drainage or a curb, taking the lane leaves the cyclist plenty of room to maneuver away from the car and to signal to the driver that he or she may consider a safer passing distance in the future.
"Undertaking" is a term for passing on the right, especially in that small space between the car and the curb. This is opposed to overtaking (passing on the left). Undertaking is extremely, and surprisingly, dangerous. Here, you won't know if they're turning, and they won't know you are there. The danger of undertaking increases with the size of the vehicle. Drivers of large trucks or busses have little or no chance of seeing you when you are on their passenger side. Obviously, this is especially dangerous at intersections, even when stopped at a red light. Always watch the front tire of a car when passing, on either side, especially at intersections. It is a better indicator of whether a car is turning than the blinker, I assure you.
Filtering is quite similar to undertaking. Filtering is when, at a red light in heavy traffic, a cyclist will split lanes to advance to the light. While I'm not going to outright tell you not to do this (I'd be lying if I said I've never done this), filtering should be discouraged, especially in dangerous areas. The dangers are, first, that the light may change when you're advancing; this can put the cyclist tightly in between two moving vehicles. Second, there is the danger identical to that of undertaking; if one advances to the right of a car intending to make a right turn without signaling (what's the harm?, they will presume, as they're in the far right lane with no one to yield to), they can turn into you without even realizing.
Again, remember that many drivers just don't pay as much attention as they should, especially with cell phones in the car. Others just don't understand the rules of the road. These drivers may be aggressive yielders. Expect to encounter aggressive yielders frequently in traffic. What do I mean by "aggressive"? The textbook example is a crosswalk that is not situated at an intersection. Drivers may be either ignorant of their duty to yield or intentionally ignore this duty; regardless, it is quite common (and probably safer) for pedestrians to yield to drivers in these crosswalks because of the risks involved with crossing as a two-ton automobile rapidly approaching. It is prudent to yield to aggressive drivers even though you have the right of way. Be careful, especially in areas that involve merging. Be careful when drivers have yield signs. Be careful at rotaries. The negative outcome is too great, no matter how small its probability of an accident. There is just no way to eliminate this behavior under the current transit paradigm.
... But Also Ride Like Drivers
Can

See You

Communication between vehicles can be difficult. You know who I notice are terrible at communicating on the road? Cyclists. Typically, the Spandex Crew (sorry, guys ... Lycra) is quite good at communication, as well as the over-30 crowd, but the vast majority of cyclists don't signal. Signaling is expected of automobiles for good reason; automobiles kill people. But it should also be expected of cyclists for the same reason; that is, because automobiles can kill you (plus it's polite), so be sure to signal when changing lanes or turning. Unfortunately, the proper hand signals are generally unknown to most drivers, but they will understand if you just stick your arm out in the direction you plan to go. You can do the arm up thing for turning right or the arm down for stopping, but I doubt if many people will remember these from Driver's Ed.

Also, remember to keep your eyes on the road. Cars behind you can see you. While I understand why people have this (mostly irrational) fear, it's really unnecessary. Few accidents are happen this way, and assuming you follow some general precautions (taking the lane when needed, lights, signaling, reflectors, etc.) it's better to direct your attention to other important causes of accidents. Generally, keeping your eyes forward, looking at the pavement, and concentrating on doors and cars turning are areas where you should be concentrating. Road conditions cause accidents. Potholes, loose gravel, or road work debris can sent you for a tumble without even encountering an automobile. The velocipede rider from the beginning of this chapter lost his race against the street car because of such an accident. So remember to concentrate on your surroundings, and slow down if you start to feel unsafe.
Cyclist vis-à-vis Cyclist
Another group one interacts with on the road is other cyclists. The most annoying thing you may encounter with other cyclists is salmoning in the bike lane. What is salmoning? In the same way that salmon swim against the current, bicycle salmon are those who ride against traffic flow. While this isn't too much of a problem in most areas, and is even generally legal in places (notably France), it does become a problem when it happens in the bike lane. The problem is that, while a bike lane on a one-way street is ideally on the left side (so as to reduce the chance of being doored), our convention for passing on the right forces the law abider into traffic, and thus, potential danger. For this reason I sternly hug the left side of these one-way bike lanes when encountering bike salmon. It can end up as a mild game of chicken, so make sure that you make eye contact and try to communicate with them. They can see oncoming traffic; you can't. It sometimes doesn't go over too well, but I'm not exactly worried about getting a hard time from someone who is putting my safety at risk because he or she can't be bothered to ride his or her bike one stupid block out of the way. I mean, can't people really be expected to take the extra fifteen seconds to actually follow the city's set bike routes? They are saving seconds (even up to a minute) off of their commute, so one can understand why they would need to cause their fellow cyclists grief; those precious seconds are the difference between the yellow jersey and second place! </rant>
Some People Still Walk
As the culture of cycling becomes more prevalent, interactions between cyclists and pedestrians will become more respectable, but they are currently strained to some extent. At crosswalks, pedestrians have the right of way; be aware of them. It may be easy to avoid a pedestrian in a crosswalk, but being an aggressive yielder on a bicycle is still annoying and antisocial. If it is safe to pass, do slow down and acknowledge to the pedestrian that you see him or her, and don't inhibit his or her path. If you are turning at a green light, let pedestrians cross before advancing, especially at busy intersections. It's basic follow-the-rules type stuff that any pro-social rider would intuitively follow; however, it still seems to be a problem in many cities.
Now, there are pedestrians who behave badly, too. The main danger posed by pedestrians occurs when they step out in front of you without looking. This will happen frequently in intersections, in bike lanes, on trails, and even just in the street. Be ready for it. It's difficult for a culture to change, and pedestrians have been comfortable not having to watch for bicycles for many years; their ears listen for cars, and their eyes have been lazy. I, too, have been guilty of stepping into the bike lane without looking, and that is coming from a cyclist who usually watches out for bike salmon when crossing the street. A change to this behavior will take time, and there are a few solutions. You can simply shout when someone is stepping out in front of you, but you could also use a bell or a toed-out brake.
There is a paradox, however, with using a bell. You see, in areas where bicycles are common, a bell will cause the pedestrians to step away from the oncoming sound. This was illustrated by a Japanese filmmaker who brought a bell into a supermarket and even onto an escalator, showing the Pavlovian reaction as people stepped aside even in the most absurd locations12. Unfortunately, since bicycle bells often sound pleasant to many Americans that are not accustomed to hearing them, a bell will tend to cause people to turn toward the cyclist out of curiosity rather than step away. Indeed, for some reason, the sound of a bike bell creates interest from exactly the same type of people who casually stroll through bike lanes and along bike paths. Now, I do have a bell on my bike, and I recommend them, but a trick that I use to warn especially dull pedestrians that I am approaching is "toeing out" one of my brake pads. "Toeing in" a brake pad is when you make sure that the leading edging of the brake touches the rim last. This is done to reduce any loud squeaking noise when the brakes are applied. However, you can use that jarring squeak to gently frighten pedestrians. The key, though, is that you don't want you brakes to always create loud noises, but you can adjust the brake by bringing the leading edge in until it squeals when you firmly apply the brake, but is silent when you only lightly apply it. The effect is wonderful; oblivious pedestrians look immediately while (more importantly) stepping away from where the sound came from. Hilariously, on occasion I will get a comment about the poor quality of my bike as I pass, as though the squeak were unintentional. I want to insist here, however, that I always ring my bell where there is no immanent danger, but use the squeal of my brake only when someone is stepping into my path at a dangerously close distance.
Frankie Says "Relax"
Finally, many cyclists put themselves and others in danger simply due to their desire for speed and efficiency. The perennial complaint about cyclists is their disregard for the rules of the road, and while there are plenty of arguments for why the rules aren't ideal (they certainly aren't), there is still a difference between yielding at and blowing through a stop sign. I even see cyclists threading the needle of cross-traffic riding through red lights. It's not a race, and it's very dangerous to ride this way. Five seconds here, twenty seconds there; the amount of time saved is literally seconds, and people are willing to put their lives at risk for these seconds. Perhaps it's a culture of impatience, but both drivers and cyclists alike tend to use dangerous driving and riding to make up time on the road. It's simply safer to relax and take your time.
Another danger is road rage. I've read about more than a few instances of minor slights escalating to violence. I'm not advocating rolling over every time someone disrespects you on the road, I'm just pointing out that it can be dangerous. I've shouted things (though rarely) and made gestures (even more rarely, and only when I was clearly being mocked by the someone), and I've been put in unsafe situations because I did. While it's never ended with anything more than a shouting match, I have no reason to assume I'll be so lucky in the future. It's always safer to just let it slide. Haters are going to hate, and jerks will continue to be jerks. That isn't going to change because you put someone in their place, but if you do, realize that he is driving a two-ton potential weapon. The best thing to do if disrespected or put in danger intentionally by a driver is to get a plate number, and report it. Yes, you can (and probably should) call 911 to report someone driving dangerously. This way, if they are ever the cause of an accident, there will be a record of their behavior, showing it was not a fluke.
Lastly, try and keep the same perspective toward pedestrians as you expect automobiles to have with you. Pedestrians are slow and often don't get out of your way as you approach. Still, on most trails and many paths, they have a right to be there. Yes, it's annoying, but do maintain respect for them as human beings. Don't buzz them or shout commands that they get out of your way. It's one thing to give a friendly "on your left" as you approach a group of hikers or a couple walking abreast in the park, but don't get enraged if they fail to yield to you. While it's a bit antisocial on their part, it's still often well within their rights to enjoy their walk in the park without constantly being on the lookout for cyclists. In the end, we have to share public space for transport, whether we are on foot or on a bike or in a car. Our commutes will be best if we all relax and treat each other like human beings, even when mistakes create inefficiencies and inconveniences. Safety on the road requires attention, and the anxiety of anger and stress won't help, but a healthy perspective does. So, don't even attempt riding through Times Square.