Chapter 5: Common Problems
If It Ain't Broke ... Oh, What's That? It's Broke? Hmm ...
"Another flaw in the human character is that everybody wants to build and nobody wants to do maintenance."
-Eugene Debs Hartke, Hocus Pocus, 199023
So you've had your bicycle for a while because you are locking it properly. Maybe it's newer, or maybe it's older; either way, there are a few things every cyclist should know about maintenance. Again, I would suggest finding a good bike mechanic in your area. It's important to have your own mechanic, because you could encounter serious problems if there were some peculiarity about your bike that made any of this advice counterproductive. So do check with a professional to see if anything is non-standard or unique before you start fiddling around. Unfortunately, your mechanic isn't going to be able to help you when you have a flat in the middle of nowhere, and it's cheaper and safer to know the basics if any of these types of minor emergencies arise.
The last thing I want this section to be is a manual (as I am neither inclined nor qualified to write one that is worth reading). Good manuals include Sheldon Brown's web page24, which is an amazing resource, or the Big Blue Book of Bicycle Repair25. No, what I want here is to relay to you the main problems my friends have encountered with their bikes.
Must-Haves
Even before considering maintenance, there are three items that every cyclist should possess. These are the small pump, multi-tool, and patch kit, each of which is absolutely necessary. The pump is required at least weekly if you have thinner tires, but more important, you will need a small pump (or CO2 cartridge) to take with you if you ride any significant distance. The patch kit is needed, obviously, to patch a flat if you get one in the middle of nowhere. The multi-tool will serve to adjust almost anything on your bike that needs adjusting, from your handlebars to your seat to your brakes. If you have a buddy with these, you can ask to borrow any of these things when you ride, but don't be surprised if you get an annoyed response. These items are all affordable and easy to store.
Also, it's a good idea to take your bike into the shop for a tune-up once a year. This will prevent most problems, or will stop any existing problems from getting serious. Tune-ups can be moderately expensive, though, so it's worth finding a good, honest bike shop to to ensure quality. Also, remember that with the purchase of a new bike, there will be significant cable stretch within the first few months (as new cables stretch a lot), and you should expect, or at least ask, your bike shop to give you a free adjustment during this period. So expect new cables to mess with your shifting, and be ready to have them tightened.
On Flat Tires
Depending where you live, flat tires may be very infrequent or surprisingly common. The American Southwest has goat-head thorns that are the scourge of every off-road cyclist, and America's urban cities have plenty of broken glass lining their roads, just waiting for a tire to deflate. While you can purchase puncture-resistant tires and kits, they are often prohibitively expensive for the casual cyclist (a good mechanic should help you with this choice, as there are many useless gimmicks that promise flat-prevention). Learning to fix a flat tire is a skill that can (and probably will) save you from many borderline emergencies.
So let's say you have a flat. Now, assuming you ride your bike frequently, you probably have a puncture. (If you've left your bike in the garage for over a few months, the tube may have just lost pressure over time and can simply be re-inflated.) You may be be riding while it happens, but most likely, you will encounter the flat as you return to wherever you previously locked your bike or just before you plan on leaving (which is the worst if you are in a hurry). So, let's get started.
Step 1: Remove the wheel. Here is where I remind you of the importance of keeping a copy of your key with you if you use locking skewers. I would go as far as suggesting you keep the key to your skewers connected to your pump (both usually have a spot for a key ring that can connect them together).
Step 2: Deflate and remove the tube. It would be helpful here if you had tire levers. These little plastic guys assist in lifting the bead of the tire, allowing you to easier access to the tube, but depending on your tire, they are not absolutely necessary.
Step 3: Inspect both tire and tube for sharp objects. Start with the tire. First inspect the outside, but always remember to then inspect the inside as well. Do this with your hands, feeling around

carefully

for anything sharp. You can also check the tube as well.
Step 4: Find the leak. Here, inflate the tube a bit, but not too much. I can't really give you an exact amount because tubes come in different sizes. You want to make sure air is able to leak out, but you don't want it to explode. Listen as you move the tube past your ear until you hear the telltale whisper of air seeping out. Now, if you have a marker, you can mark where the leak is; if you don't, then pay close attention so as not to lose its location. Now deflate the tube again.
Step 5: Patch the hole. Time to use your patch kit. You should always follow the instructions on your patch kit, but most of them are very similar. Typically, you will be expected to sand the the area where the patch will go. This is for better adhesion, so it is very important that you do not touch the area where you've sanded before applying the patch. The oils from your hands can cause the adhesive bond, and thus the patch, to fail. Next, you will typically apply glue or some epoxy where you've sanded, and allow it to get sticky or tacky (not solid, but not too liquid either). Remember to spread the glue with the tip of the glue bottle so that it will cover the entire area where the patch will contact the tube. Finally, you will probably need to peel the backing from the patch and then apply it, making sure it there is glue wherever it makes contact. Hold it tight for a bit (at least a minute or two, but probably longer) until it begins to dry.
Step 6: Replace the tube. After the glue has dried, make sure one bead of the tire is over the rim, then place the tube back into the tire so that the stem comes through its hole. It can help if you slightly inflate the tube, just enough to give it some shape. Make sure you do this so that there are no twists in the tube;

this is very important

, as a twist can cause it to explode during re-inflation.
Step 7: Put the rest of the tire back on the rim. This is always the difficult part. The beginning is easy, as one end will always slide on easily; however, as you start to push the edge over the rim, it will get more and more difficult, especially with narrow tires. Eventually, you may be tempted to use those tire levers to get the last bit over, but this is generally bad advice. What you want to do is push the bottom of the tire inward, which will allow the top (where you are trying to slide the bead over) to inch ever so slightly until it pops into place. Here, it's important to make sure the tube is totally inside the tire. You

can

do this using only your hands, though it is, admittedly, difficult. After this, you will want to depress the tube's stem at least once to make sure it is properly aligned in the rim.
Step 8: Carefully inflate the tube. Start inflating the tire, pausing every 20 psi or so to check for anything bulging around the rim. If there is anything that appears unusual, deflate it immediately and start over. I had the misfortune of not checking once when there was a pinch or twist in my tube; I can assure you that I will not make that mistake

ever

again. The volume and shock of a tube exploding is extremely frightening, so take your time. Eventually, when you are at your recommended psi (it should be written on your tire), you can put your wheel back on the bike, tighten it up, and you'll be done. Aren't you glad you had that patch kit with you?
Pedals Jump Forward Under Stress
After changing a tire, the most frequent problem I see is people's pedals jumping. Essentially, when climbing or whenever the pedals are under stress, the pedals will jerk forward, often frightening or even causing the rider to briefly lose control. While it isn't particularly dangerous, it is certainly annoying. It's caused by the teeth on your cassette being worn down too far, combined with chain "stretch," which is really just chain wear (it's not actually getting stretched, but the gaps in the links get slightly wider with wear). Essentially, this is the beginning of the end for your drive train.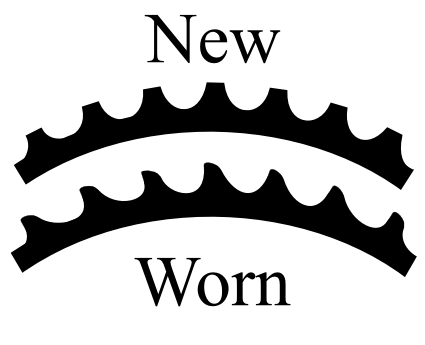 The process is as follows: Your chain pulls your cassette around, and they both rub on each other; then, over time, the cassette is worn so that the little U shapes (the slots in between the gears' teeth) get wider, and the cogs' teeth get rounded (though the illustration here is a bit exaggerated for clarity); also, the links of the chain are worn in such a way that a link of the chain will dig in even more on the cogs. This "jumping" happens because, as the slot and chain are worn, the edges of the teeth turn into little ramps. Under enough stress, the chain can get yanked over those little ramps, allowing the chain to move freely for a split second, causing the pedals to jerk forward.
Luckily, this is relatively easily diagnosed. If your pedals are jumping forward on you under stress, you should check the rear sprockets. Unless the cassette is new, then this is probably your problem. The next thing you may need to check is the front chain ring(s). The chain ring tends to wear at a much slower rate than the cassette, but when it does, its teeth start to look distinctively like shark teeth. If you see these signs on your drive train, it will probably need to be replaced, which may cost quite a bit, depending on how nice you want your components to be. So if it's not too much of a problem, you can usually keep riding on it carefully, but try to stay away from hills and keep a high cadence.
Also, more generally, it's good to think of the chain and cassette as a unified object. They wear together, and the chain and cassette wear are symbiotic. Don't go replacing the chain on your bike randomly. A new chain on an old cassette won't act properly and can damage the cassette even further.
My Brakes Are Loud and Annoying
Squeaking brakes can be almost unbearable; thankfully, they are easy to fix. Typically, what causes the problem is that the brakes are not "toed in." To "toe in" brakes means to make sure the forward edge of the brake touches the rim ever so slightly before the rest of the pad contacts the rim. This angle will be very slight, so the entire brake pad is still utilized when braking, but having the farthest-forward part touch first ensures that the brakes will be silent when engaged.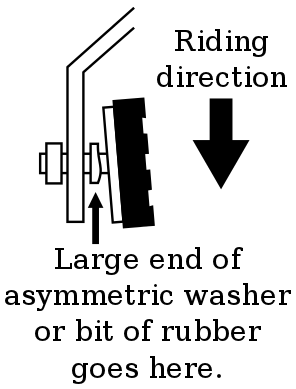 Brakes usually have a fairly intuitive system for adjusting their angle. There may be an asymmetric washer holding your brake pad to the brake; this can be adjusted to change the pitch of brake. If there isn't an asymmetric washer, you can just stick a little piece of rubber or something on the forward side of the brake attachment (I typically use a bit of electrical tape so I can adjust the width and thickness easily). If you are unsure, however, you should contact a mechanic, as brake failure can be very dangerous. Usually, though, brakes can be adjusted fairly simply, and if you do ask your mechanic how to do it yourself, he or she can probably teach you in a matter of minutes.
I noted earlier that it is possible to intentionally toe out the brake ever so slightly to make it squeak on purpose. This can be done to warn pedestrians of your presence in a highly attention-grabbing manner (as bells tend not to dissuade pedestrians from walking into your path). This may theoretically reduce the lifespan of your brake pad and rim; however, if done properly, the effect is probably negligible. Do be careful to use this sparingly, though, as even a slight adjustment can make a very loud noise, and you will probably have to hear that noise often when you stop.
Finally, if for some reason your brakes are toed in properly but they are still squeaking, it's probably a good idea to take it into the mechanic, as there may be something seriously wrong with them, such as being over-worn or faulty.
Wobbly Wheels
If you notice that your wheels wobble side-to-side as you ride (even slightly), then you may need to get your wheels trued. Wheel truing is something that is not too difficult to learn, however, for the casual rider, it's probably not worth it, as it is a relatively infrequent and inexpensive procedure. The solution is simply to take your bike into your local bike shop and let a mechanic get it perfect. There could be something wrong with the hub, which may need to be replaced, but that is usually prevented by your annual tune-up. However, wheels typically become untrue many times within the lifespan of a bicycle, and wheel-truing will become a rare, but familiar, part of your maintenance.
The Shifting Sucks
So if you go to shift gears and you chain starts jumping everywhere, not falling into place, then you have a problem. Unfortunately, this problem is a bit more difficult to diagnose, because it could be many, or even a series of, problems. It could be a worn-out drive train or a bent derailleur. It could be normal cable stretch, but it could also be that the limiter screws have been set improperly. Your best bet here is to take it in to a mechanic. It could be a two-second adjustment to the derailleur cable, or you could need bunch of new parts. Typically, however, this problem will only occur if one does not ever tune up his or her bike. Tune up your bikes, people!
Noisy Chain
It's a good idea to clean and oil the chain every once in a while, but there are differing opinions on whether the layperson will do more harm than good by cleaning his or her own chain. Oiling a dirty chain will certainly increase the rate at which it wears, and accidentally using a de-greaser when oiling the chain (a common mistake for laypeople) will absolutely destroy the drive train. First and foremost, you must be extremely careful when cleaning a chain on a fixed-gear. The rear wheel will spin while you clean it, and if you got anything caught between the sprockets and the chain, you could lose a finger. So I strongly advise people to use something to prevent rapid spinning as a precaution. I usually put something through the rear wheel and remove it only when adjusting the chain's position.
Anyway, there are different tiers to cleaning your chain. You can just do a quick-and-dirty cleaning, or a super-thorough cleaning. The cleaner, the better, obviously, but you'll want to at least clean the chain with a rag soaked in soap and water before applying chain lube. You can also soak the chain in a de-greaser before applying lube. Some go to more extreme measures, using magnets to remove metal shavings, contraptions that fit over the chain while riding, or even boiling the chain to loosen the muck. Regardless, if you get your bike tuned up once a year, the chain will be thoroughly cleaned and lubricated, though it's a good idea to properly clean a noisy chain if you are comfortable doing it on your own.
My butt hurts!
The last common problem I see is seat pain. Generally, comfortable riding is made up of three important pillars: bike fit, saddle width, and perineum safety.
Bike fit is paramount, but often overlooked, so some of this info is worth repeating. You can adjust handlebar height and distance forward and back; your saddle can also adjust up, down, forward, and back. However, top-tube length is most essential, in my opinion, because this determines, in large part, the amount of weight that will be on the saddle, as compared to the amount on the wrists and legs. While getting properly fit for a bike is generally more difficult for the beginning cyclist, you should try and consider it when looking for new bikes. Make sure that all your weight is not on your saddle, but also make sure your wrists won't be sore after a short ride. If you already have a bike and are having trouble, consider talking to a mechanic about your position, and consider adjusting it.
Seat choice is also one the causes of pain. Width is the primary concern here; those of us with larger behinds often need comically large saddles. Don't be dissuaded by this if you need one, though, it's not about having a big butt, it's about the distance between your sit bones. Wide sit bones on a narrow seat is a recipe for pain. Many bike shops have the ability to measure your sit bones for you, and since buying an after-market seat is advisable, consider getting your sit bones measured when you decide to invest into a quality seat.
Remember from the previous section on saddles that when it comes to padded saddles, firm is usually better than squishy. A good firmness feels like an inflated bike tire. While squishy may seem good when you press on it, when the weight of your entire body is on it, you may sink all the way through to the hard plastic at the base. Is your saddle's padding mostly gel? Is much of the padding soft rather than firm? If so, you may want to consider buying a firmer seat.
Also, getting the seat into position can also be a bit of a struggle; primarily, the height of your saddle should be such that you can hold your weight with your legs at all times. People sometimes have their seat too high, rather than too low. One trick you can use is to try to pedal with your heels; when you can pedal with your heels comfortably, i.e., when your hips aren't rocking back and forth, then your seat is probably just right. Next, try to get your knee over the ball of your foot on your downstroke. Seat angle is important and, typically, you will simply want the ends of your seat to be parallel with the ground. Occasionally I'll meet someone who prefers a downward tilt for one reason or another, but this is very rare.
Finally, perineum safety is always an important aspect of saddle comfort. You should talk to your doctor about perineum issues if you experience any pain or numbness in between your legs. While rare, caution should be used, as perineum damage can lead to sexual dysfunction in both men and women6. So, it's probably a good idea to talk to a doctor who knows about perineum issues if you notice anything worrisome, and consider a saddle that provides relief to the perineum. Pay attention to your body. If you are uncomfortable, you won't enjoy your ride. Finding a saddle to suit your specific needs is probably the easiest way to increase your quality of life as a cyclist.